Your Toronto backyard has the potential to become an oasis for relaxation and socializing with friends.
With a little bit of strategic planning, a patio transformation can provide a perfect atmosphere for making memories and recharging after a long day. Whether you dream of having a backyard oasis or a neighborhood hangout spot, it is well worth the extra time and money to make it happen.
Let's explore eight of the best ways to create a backyard living space that's perfect for entertaining and making memories.
How to create the best outdoor entertaining spot
1. Create a cohesive layout
Before you begin your backyard renovation, it's important to choose a layout that meets your needs. Consider the intended function for your space and what elements you want to include. As you design your layout, make sure each space flows to the next easily. A thoughtfully placed table or planter can make the difference between a clunky and disorganized patio space and one that's comfortable and cohesive.
2. Build an outdoor kitchen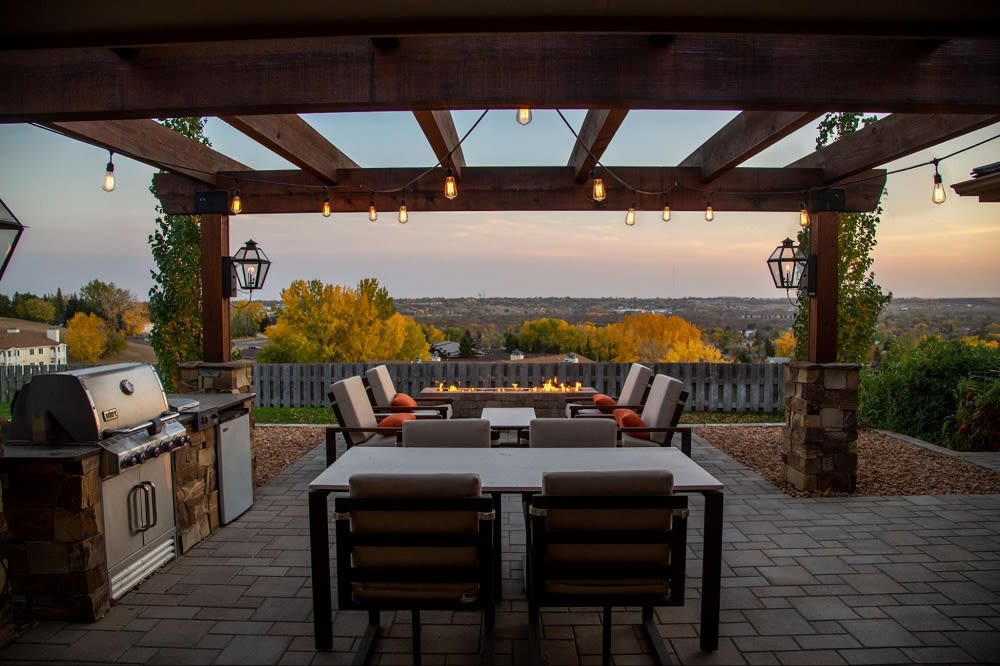 Building an impressive outdoor kitchen will make your house the talk of the neighborhood, and you'll get plenty of use out of your new space. Consider incorporating a built-in grill with a power burner so you can cook dinner for a crowd. Include a sink and a counter space to make entire meals outside while enjoying the sunshine and the company of good friends.
3. Connect to smart home technology
Selecting smart technology for your outdoor space makes it easy to control the environment, elevating your outdoor patio to the next level! Some easy ways to use smart technology include:
Lighting - Choose lighting that can be controlled from an app on your phone. You can create a timer for your lights to shut off and on or manually dim them at the touch of a button.



Wireless speakers - A good sound system is a necessity in a backyard entertainment space. There are countless wireless speakers to choose from that can set the mood for dancing, dining, and cozying up with your partner under the stars.



Smart plugs - Smart plugs are inexpensive, and they make it possible to have a smart home without buying all new devices. Simply plug your regular string lights or sprinklers into a smart plug and pair them with your smartphone.



Fire pits - Yes, even outdoor fire pits can be purchased as smart devices. They're easy to control and can be turned off with your smartphone.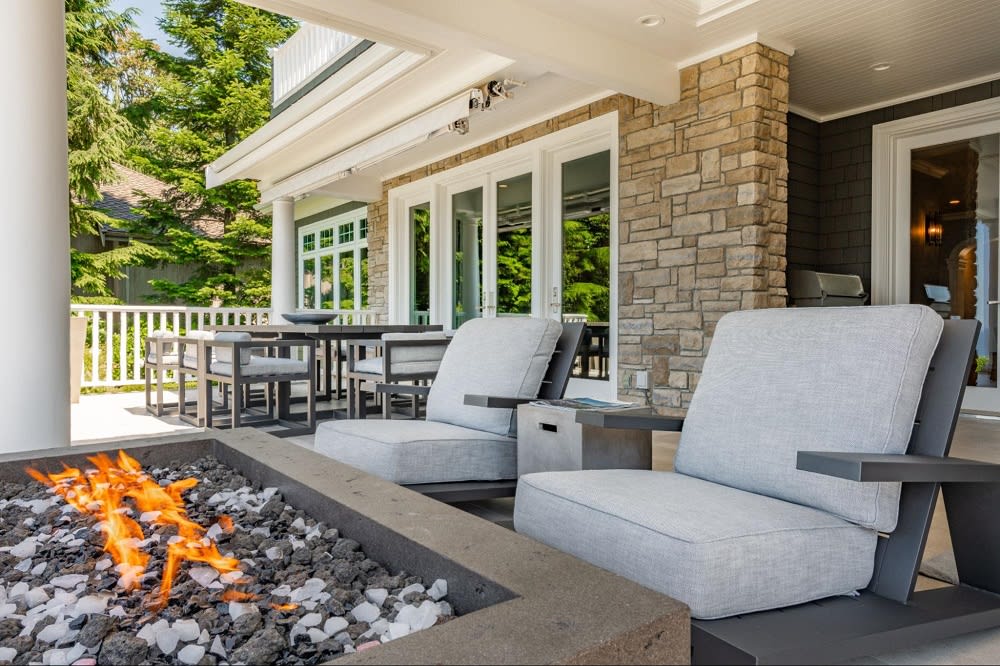 4. Strategically add landscaping and foliage
Thoughtfully designed landscaping can make your backyard feel like a peaceful sanctuary, and perfectly placed foliage can create natural boundaries for the zones in your backyard. There are endless ways to landscape your unique outdoor space, and you can pick and choose the ones that meet your needs best. Some ideas include:
A healthy lawn - First and foremost, make sure your lawn is well cared for and lush, especially if it sees a lot of foot traffic. This also adds

curb appeal

, making it easier to sell a home in Toronto.

Potted plants - Place potted plants on end tables and around the sitting area to add privacy and a sense of comfort to the space. Privacy bushes - Large bushes provide barriers around your yard, and they add a sense of privacy so you can relax outdoors, even if you live on a busy street.



Garden space - If your yard has space, consider adding a small garden. If you don't have the space, you can grow many vegetables in containers that will double as decor.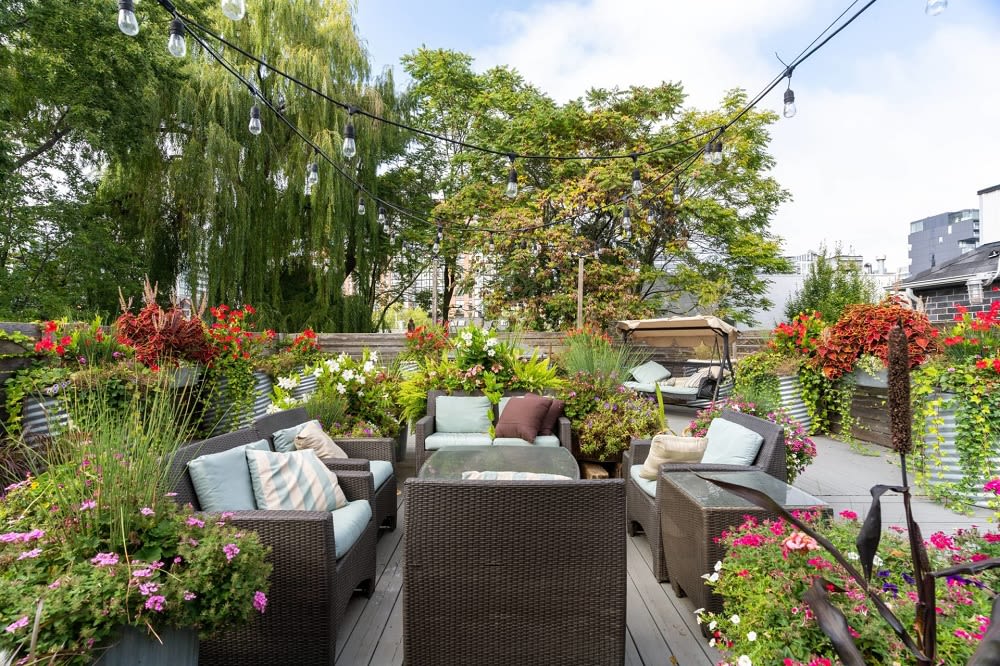 5. Add shady spots
Toronto's warm summer months make it easy to spend every day outside, but make sure you've incorporated shady spots so you can enjoy the space even on the hottest of days!
6. Incorporate a fire pit or heating element
Toronto's spring and winter weather can be chilly, so to prolong the amount of time you can spend outside each year, consider adding a fire pit or other heating element to your backyard space. They produce plenty of heat and add a cozy element to your outdoor seating area.
7. Integrate outdoor lighting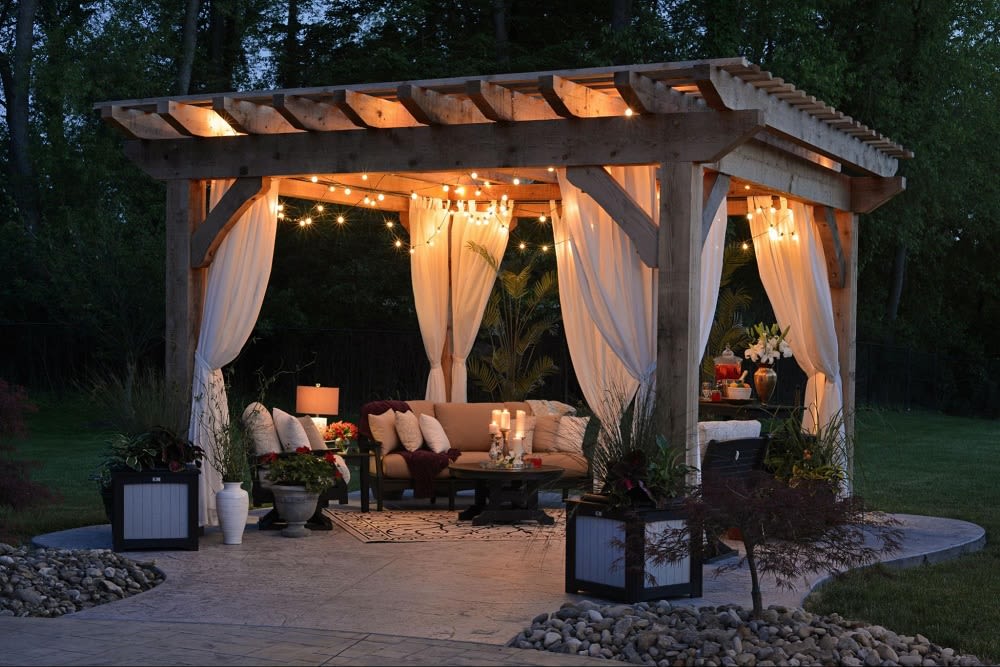 Perhaps one of the most important elements of a backyard sanctuary is the lighting. Carefully chosen lighting elements can make your yard a romantic retreat, a cozy gathering spot, or a well-lit party atmosphere. Mix and match lanterns, hanging lights, and LED strip lights to create a unique space that's both inviting and comfortable.
8. Incorporate a water feature
Fountains and ponds can add peaceful water sounds to your patio, and they're visually appealing as well. If your goal is a relaxing oasis, consider adding a water element to your backyard entertainment space.
Your backyard design options are endless. When creating your dream outdoor living space, it's important to think about the elements that are most important to you and which elements will help
sell your home
when you're ready. Your finished space will be well worth the price, and your ROI can be nearly 80% of your total cost. If you decide to sell your home,
Toronto Realtor
Kevin
Crigger
can guide you through the process so you can purchase your next perfect home.